A few pictures and comments from an all-too-brief vacation in Tucson.
I rented this lovely Trek Fuel EX 8 from a cool shop in town. They set up the suspension for me, topped off the sealant in the tubeless tires and gave me a seat pack with a spare tube and a couple of CO2 cartridges. Having owned an EX a couple of years ago, I can attest that it's a really nice bike with 130 mm of travel front and rear and unflappable handling.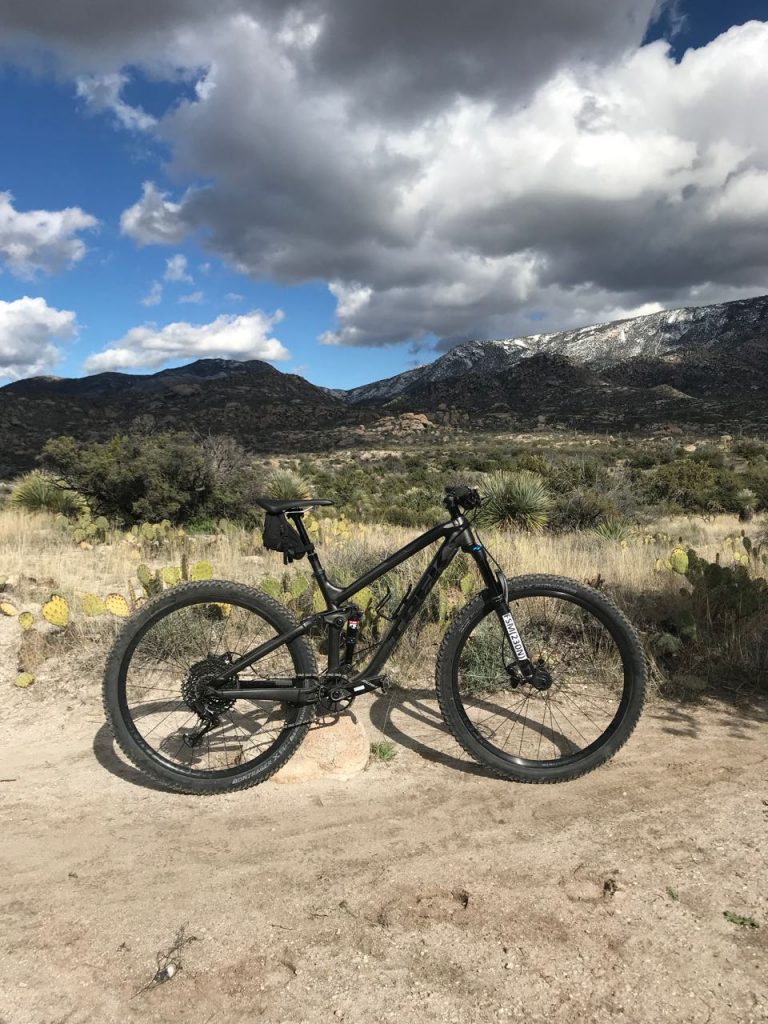 I was able to ride three days with an old college buddy of mine who moved to Tucson many years ago. The first day we rode the Sweetwater trail system. Great fun, and a good way to get acclimated to the area, and by "the area," I mean the rocks. Rocks, rocks, rocks. It was fine, but it took a bit of mental adjustment to believe the tires would stick and the bike would turn.
The second day I hit Sweetwater again, then met my buddy for a trip to the Golder Ranch Trial System. This included a bit of sand, some huge boulders, a bit of hike-a-bike, screaming descents down The Chutes and lots of rocks, including one that I fell from.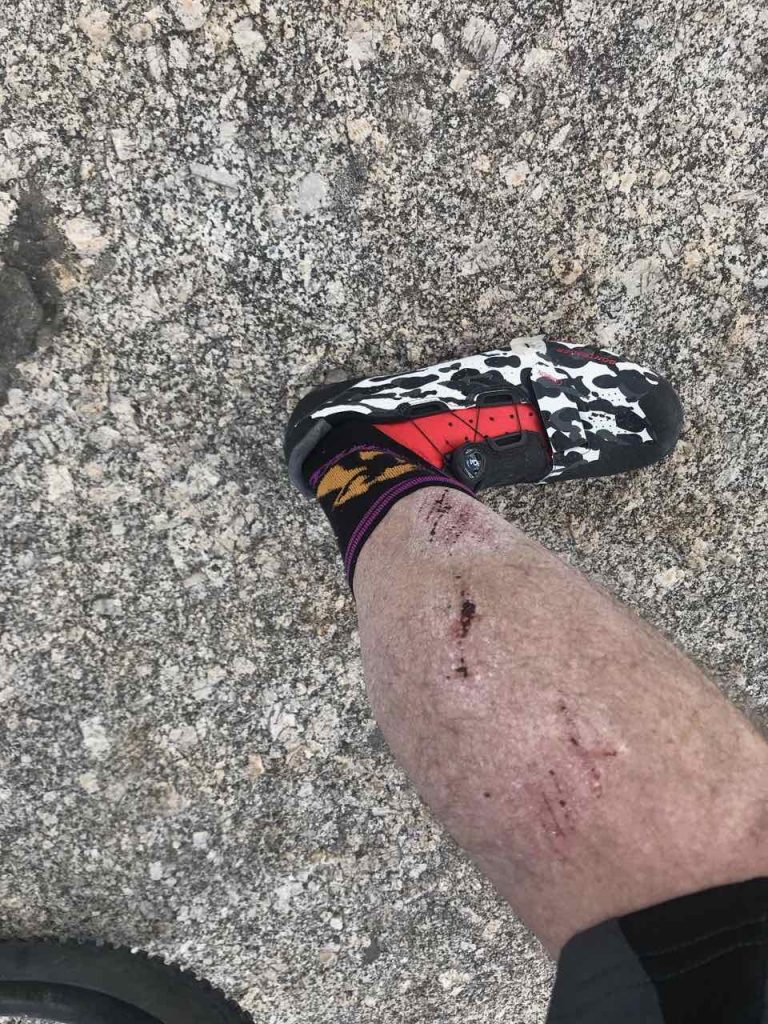 Just a flesh wound. I'd tried to climb up the face of a rock, but didn't have enough steam to get over the top. Boom. It looks worse than it is. However, this picture features the shoes that I wore, a very new pair of Bontrager Cambions. Two things stood about about these shoes. One, they are very comfortable. Two, the soft rubber on the lugs was just grippy enough to get me up a few hike-a-bike sections up rock faces. Perhaps flat pedals would have been a really good option, but I brought clipless stuff, so clipless I used.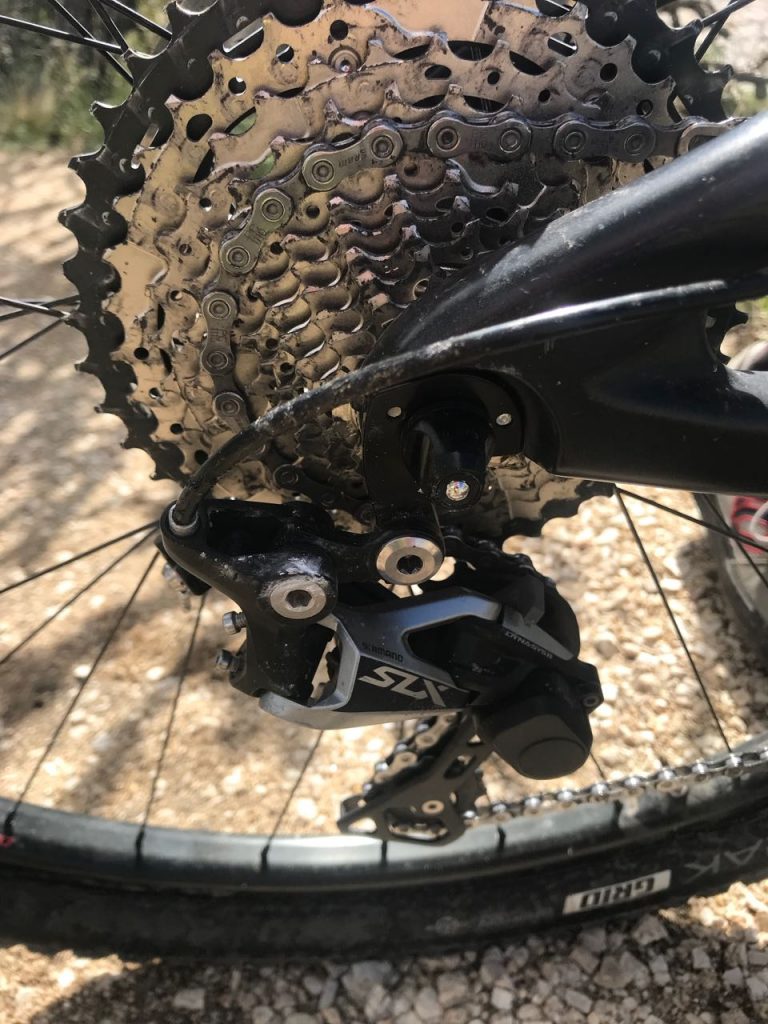 We were going through some pretty rough business when I heard my buddy holler, "I could use a bike mechanic." He'd crashed on the drive side and smashed the derailleur pretty hard right on the pivot (see the pic). I guess I've been living right, as I was able to grab the darn thing, bend it back and make it shift pretty darn well. I prefer to have some fancy tools, but luck will do just fine in a pinch.
The third day brought us to the Tucson Mountain Park. Wow. This was enormous fun, very rocky with a few tough climbs, but mostly just fine and incredibly lovely. This was the best weather day of the trip with temperatures over 50F and clear blue skies. It was during a descent that I decided to create a photo collection of Things In Tucson That Don't Like You.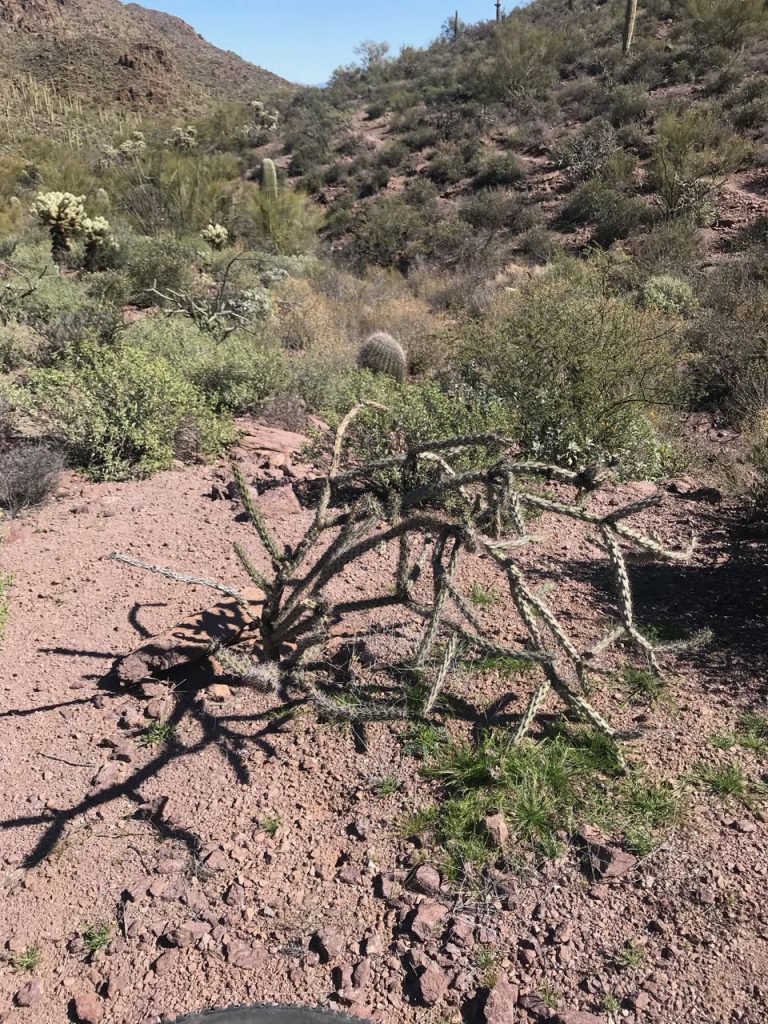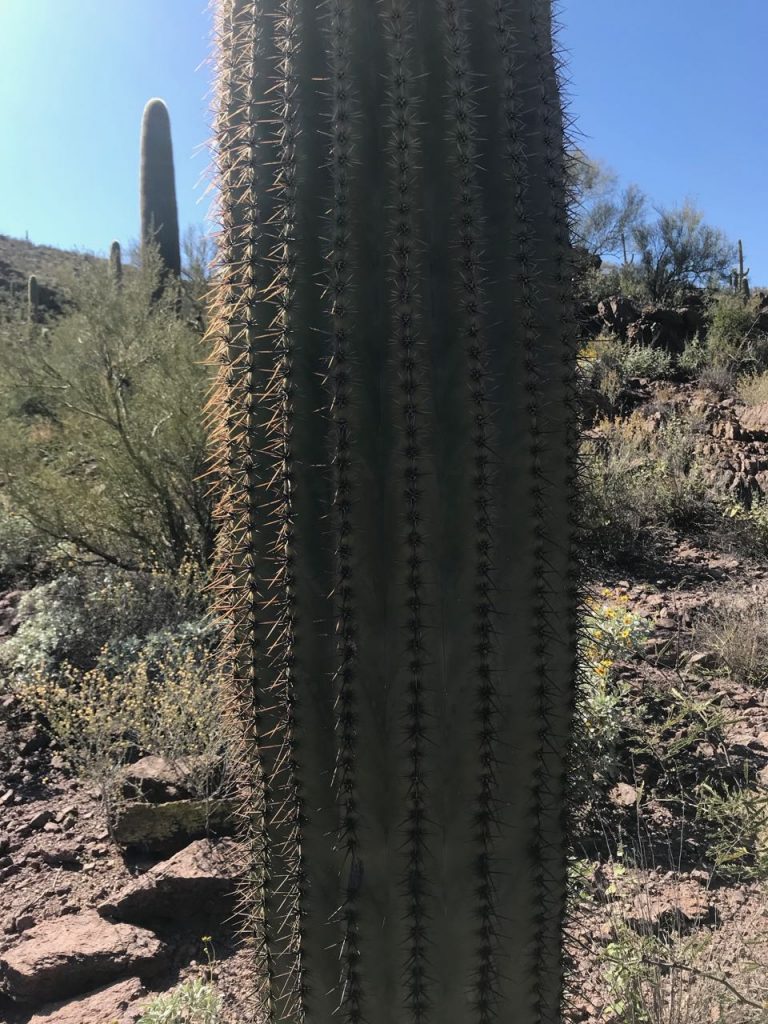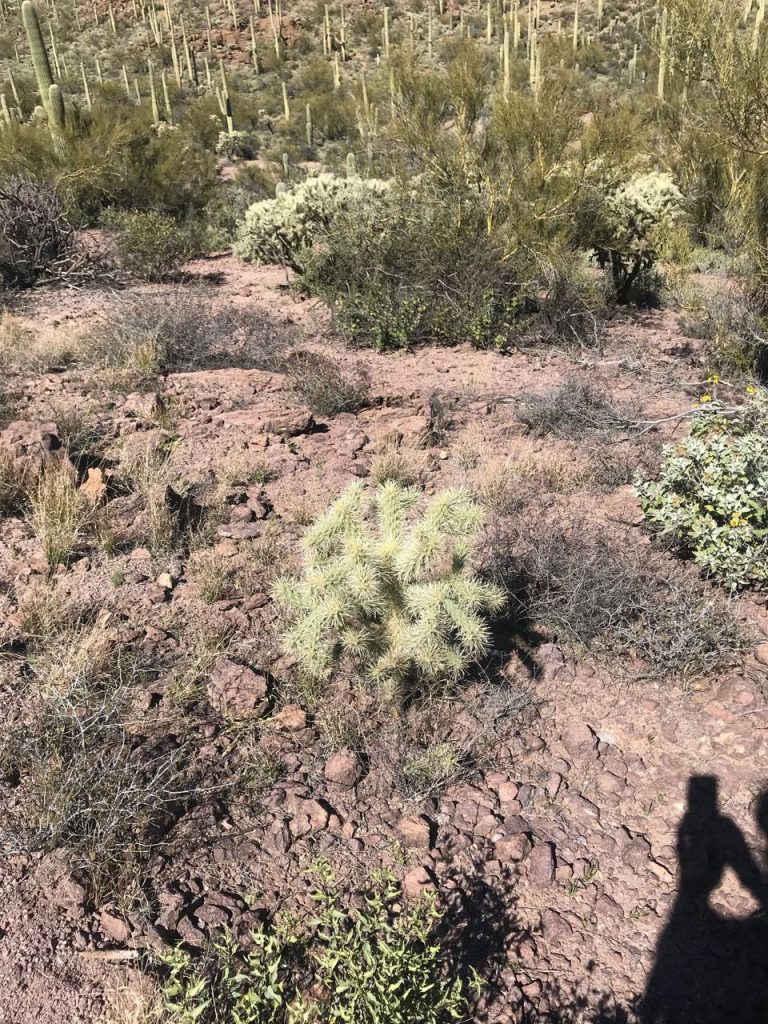 That last one in particular is quite nasty. The needles have tiny barbs on the end, and are both terribly painful and difficult to remove. Though the plants are hostile, the mountain biking was great. And the views. My word. Look at this: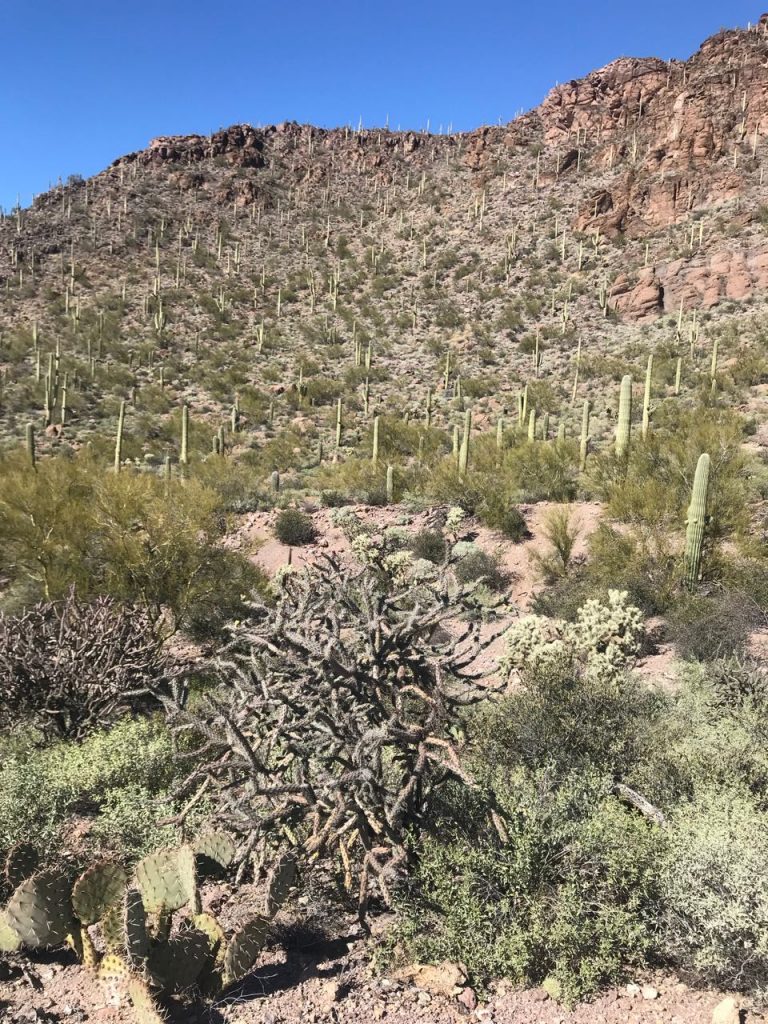 Ansel Adams I am not. When I took this picture I felt as though I were in the most remote place in the world. And then we biked up a ridge to find a neighborhood on the other side. Incredible.
Thumbs up to mountain biking in Tucson. I rented a really great bike for about $80/day. I drove about 20-30 minutes to the various trails in town and just had a tremendous time. Recommended.