Hello Pedal People.
My name is Audrey. I have worked at the Downtown shop as the Inventory Specialist for the past year and a half or so. Last weekend, Quality Bicycle Products hosted it's dealer trade show and expo event in Bloomington, Minnesota (the location of the Mall of America, for those versed in abnormally large shopping centers). Frostbike occurs in the icier months of every year and QBP has slowly but surely been adding more and more opportunities for education, networking, and recognition each year.
(The theme park and aquarium which are fully inside the mall. Yeah.)
This year, there was a huge effort from QBP to center discussion on diversity and inclusion in the cycling industry. Frostbike hosted a more gender-diverse crowd than ever before. There were seminars focused on serving and respecting women and LGBTQ people in the shop. There was a women's networking (read: venting) event. The keynote speaker was Leah Benson, founder of Gladys Bikes, one of the only shops in the country catering specifically to women, transgender people, and femmes. I met so many amazing women sharing so many innovative ideas to move the cycling industry forward. Good feelings.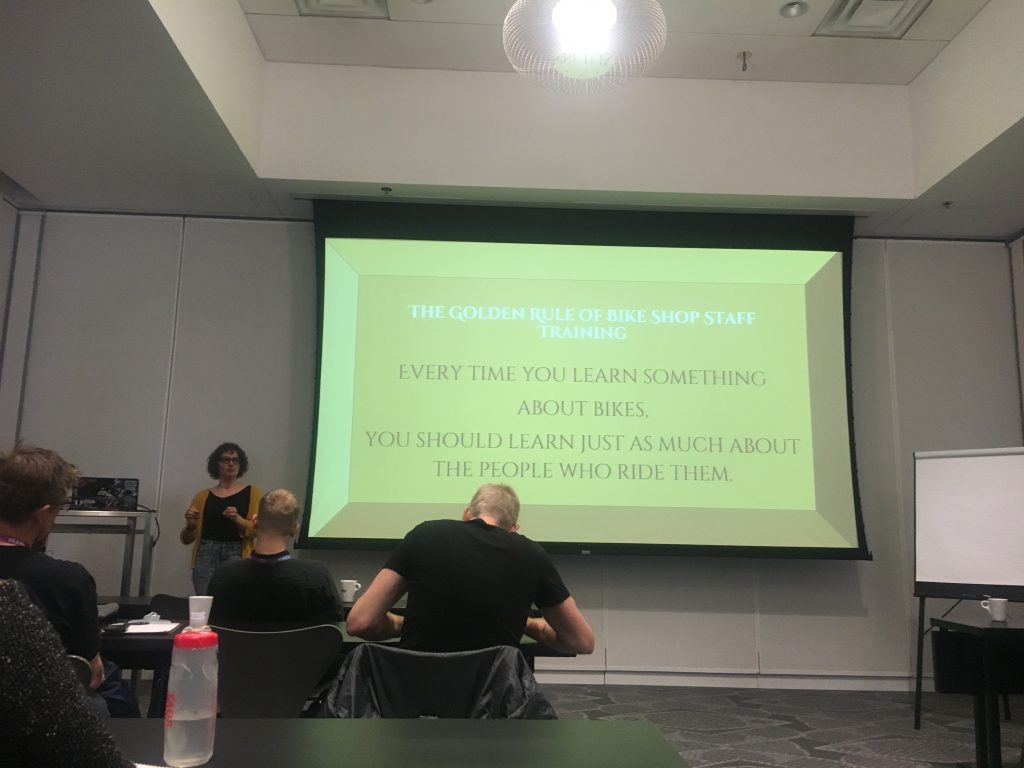 (Leah Benson summing it up nicely. We can get so obsessed with gear and tech, we forget what cycling is really about: people.)
QBP made sure everyone was welcome and well-fed, and I left each portion of the event with practical knowledge I could bring back to Pedal and Kalamazoo.
For me, the highlight of the educational seminars was Women Unite! a women, trans, and femme networking and capacity building event. We broke out into task groups focusing on various gender issues in the world of cycling. My group had a productive and hopeful discussion on the role of men as allies to the advancement of gender equity (in cycling and in the great wide world). Personally, I feel lucky to work with men who believe in the urgency of this goal, and I feel encouraged when they choose to intervene in less than ideal situations. Many people in my group emphasized how important it is for men to back them up (without white-knighting it). In the cycling industry, men's voices still carry much louder than others, and men can use that volume to advocate for those others. 
The Women Unite! attendees kept the conversation going at the reception that evening. There, I spoke with a lot of folks about other kinds of diversity. While Frostbike made some strides towards gender diversity, it was still an overwhelmingly white event. Although being a gender minority in any field can be frustrating, it can also be a source of strength. Moving forward, I want to use my understanding of how it feels to be marginalized in the industry to bring people of color, immigrants, and others into the rad world of bikes.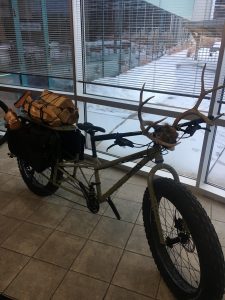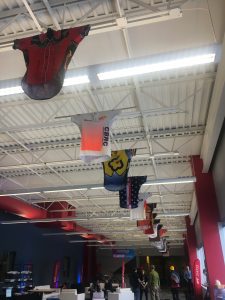 QBP has a pretty sweet setup at their Bloomington distribution center. Being located just outside bike friendly Minneapolis probably doesn't hurt. Saturday's schedule was full of technical education opportunities. The Frostbike dealer expo hosted big names like Surly, Thule, Sram, and Hammer showcasing their new products and offering tech seminars.
Speaking of bike friendly, did you know Minneapolis has its very own cycling museum? Yes, the museum has no any public hours, and, yes, it is in the basement of a church, but how cool is that?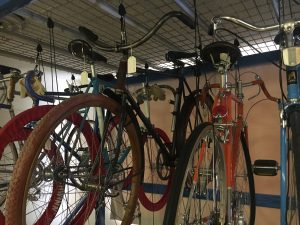 I'll end with this: if you are a member of any privileged group in any field, how can you step-up on behalf of those who may not be represented on your staff, in your meeting, in your break room? I don't speak up as often as I would like, but I know the hopeful feeling I got from talking with like-minded folks at Frostbike was pointing at something, and that something could be a diverse, healthy cycling industry.