Technology can be a Burden
This winter I started a commuter bike project. I wanted to be able to ride to the gym, work out, ride to work, take a shower, work all day and ride home, all without having to carry a backpack.
The backpack part might seem dumb, but I radiate a lot of heat in the summer and run a little cooler without a thing on my back.
The project started out GREAT. Got a cool bike. Decked it out with cool stuff. Had some fun. Then realized that my computer — an integral part of my professional existence — didn't fit.
To recap the bike setup at this point: dynamo lighting system. Pizza rack. Pizza rack bag.
Step One: purchase a bungee gizmo and attach my backpack to the pizza rack on the front of the bike. This worked pretty well, but had two drawbacks. Drawback one was that I had to carry my (unpleasant) post-workout gym clothes home in my backpack, and that was just a bit much. Drawback two is that my backpack isn't really waterproof, and I wanted to feel safe in a downpour. There is a certain amount of stubbornness around the shop with regard to riding home if you arrived at work by bike.
Step Two: purchase a pannier and hang it from the pizza rack. Turns out that very few panniers are big enough to hold a 15" MacBook Pro. I purchased a super nifty Thule item, and discovered that it didn't fit on the pizza rack. Sigh.
Sometime in there we had a good rain, and I ordered some super-sweet fenders for the bike. Installing the olde worlde drill-your-own-holes-and-hope-for-the-best thingies made me really appreciate modern fenders. And Two Hearted.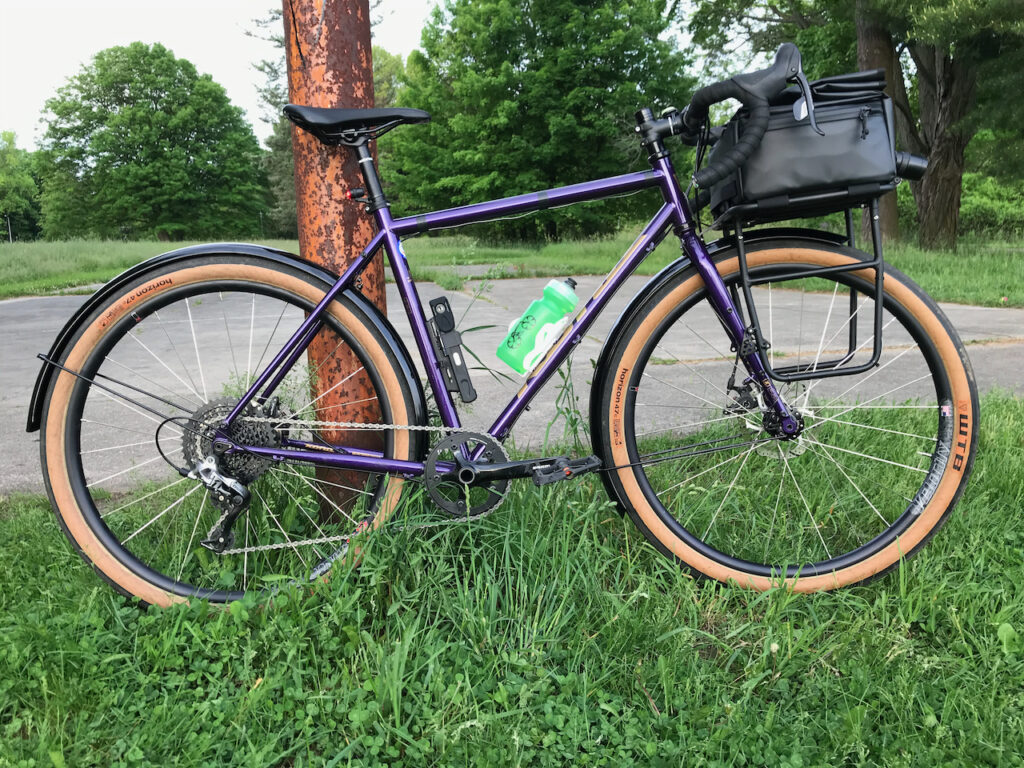 Step Three: purchase a rear rack to hold the pannier. By this time we're starting to experience significant bike/parts/accessories shortages due to the pandemic. I'm not going to say that I settled for this rack, but there weren't many cool racks from which to choose. Once I got it on the bike I realized that it, too, is not compatible with the Thule pannier. Clarification: the pannier works, but it doesn't work optimally; it's too tall (or the rack is too short, vertically) for the pannier to fit snugly. I should have thought about this a little more thoroughly before picking the rack I did.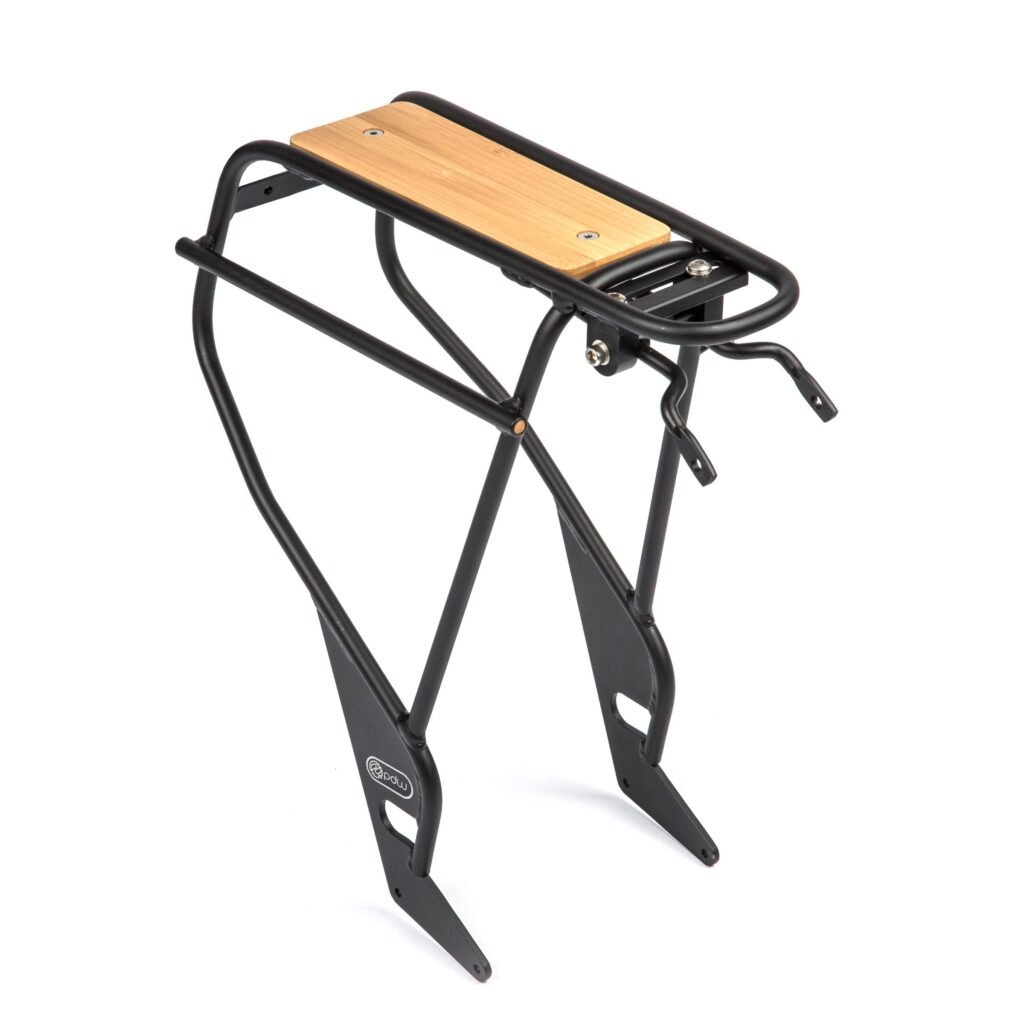 True fact: with front and rear racks and a set of full-coverage fenders, it takes a few rides to get everything tight and not rattling. My bike sounded like it was falling apart for a couple of rides. Because it was.
Know who commutes a lot? Europeans, specifically Germans. Surely there's some darn German product that'll fix my problems.
Step Four: try a different pannier. Ortlieb makes a commuting bag that looked perfect. And, I have to admit, it works pretty darn well. Still doesn't quite fit the pizza rack, but it does work on the rear rack. I haven't been able to make it my all-the-time-wether-I'm-commuting-or-not bag, but it might have potential. It holds a good amount of stuff and my computer feels vey secure in there.
Step Five: try a different rack. I bought a Pelago commuter rack in an effort to get these panniers to fit better. And it worked! Both the Thule and Ortlieb bags fit great. True, the new rack is perhaps not as adorable as the PDW, but this whole project is mostly about function. Good news: one of my coworkers with far fewer embedded requirements installed the PDW rack and is very happy. The punch line is that she's using my old bungee net to secure her backpack to the rack.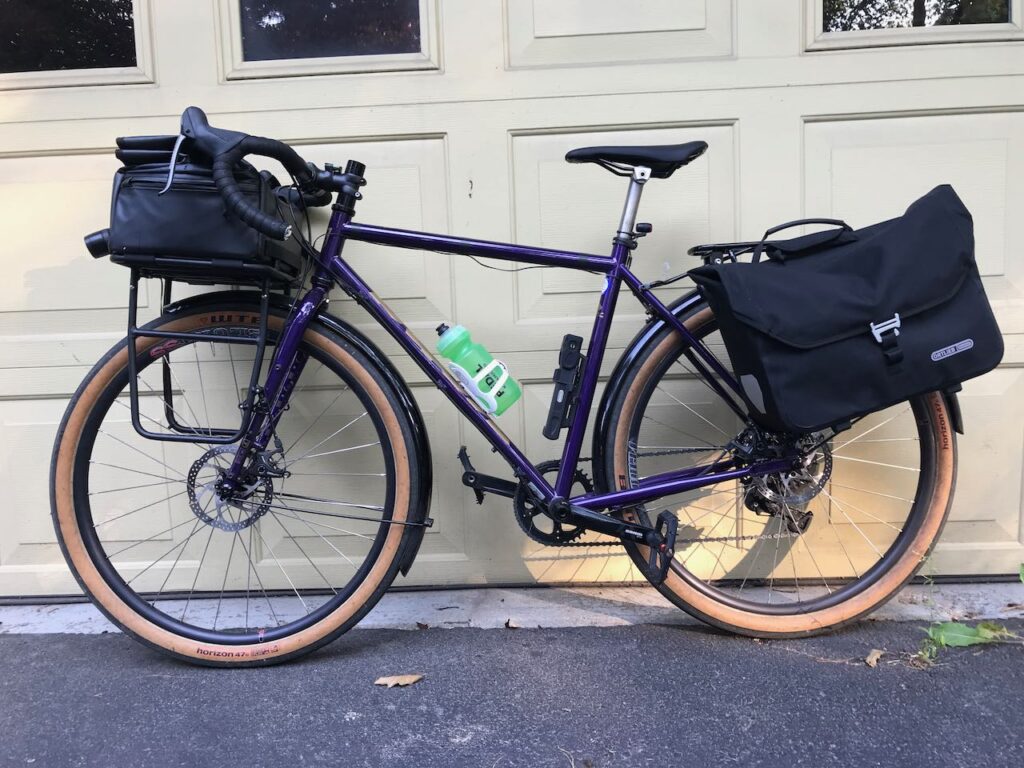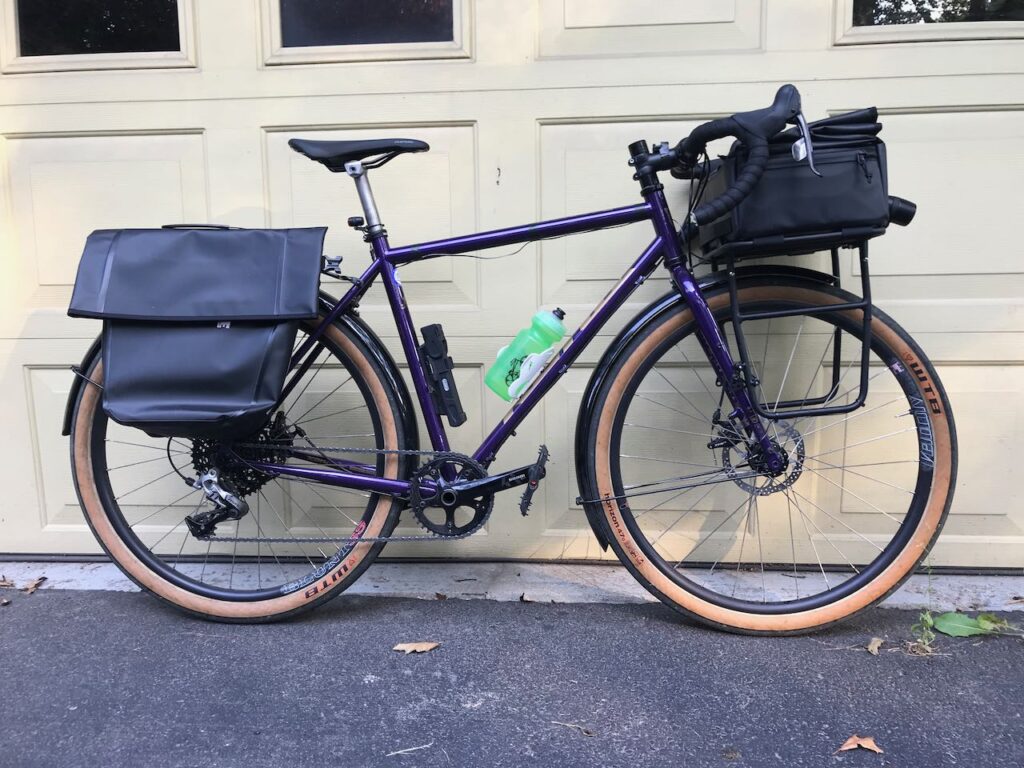 This current setup is very functional, but is it optimum? I think not. Somewhere in my head is the desire to have a bike that'll do what I want with one rack, and I'd like it to be a front rack. Does it bother me enough to keep throwing $100 bills at it? That's a pretty good question. We'll see. The functionality of the new rear rack dulled my edginess a lot.