Before starting this entry, I looked back and re-read Part 1. How bizarre! A post about a bunch of parts without a bike on which to bolt them. Just to recap, I'm trying to incorporate a bike into more aspects of my life — not just going fast in pursuit of fitness.
When I first started ruminating on this project, the Kona Rove ST seemed like the right foundation. Like the steel. Like the steel fork. LOVE the purple. My size was in stock. And then it wasn't. I cast my net a tad wider and started looking at the Sutra LTD. Lots to like here, too: similar geometry, all steel, hydraulic brakes. The color (Earth Gray) was a pretty large step backwards in the eyes of this beholder, but the overall bike looked good, and I got ready to order one. Then I noticed that the Rove ST was back in stock. Sheesh.
I called Kona and talked to my rep a little bit. He said that the Sutra gets better as you load it up and that the Rove probably rode better unloaded. I'm not really building this to go across the country. I plan to carry a change of clothes, my computer, its accessories and a small amount of human detritus, so I opted for the Rove.
In retrospect, there's an unconsidered option that should have been, well, considered — a standard Sutra updated to the spec of either a Rove ST or Sutra LTD. The price of a Sutra is pretty low, and I was already bringing a LOT of extraneous stuff to the mix. In fact, I'm talking to a client who wants a bike very similar to mine, and we're discussing this very option.
While I waited for the bike to arrive, I quickly ordered the rest of the wheel supplies and asked Kalyn to build them for me. I opted for Velocity Blunt SS rims and Sapim CX-Ray spokes because… why not?
I built the bike, installed the front rack, installed the new wheels and wired all the lights, in that order. Thanks to the remodel and a generally hectic life, this took place over the course of a few days.
Building the bike was easy. Installing the rack was typical: slightly more difficult than originally anticipated, but not bad enough to make you start punching yourself. Installing the new wheels was a piece of cake. I put a set of WTB Horizon tires on the new rims, set them up tubeless and haven't thought about it since.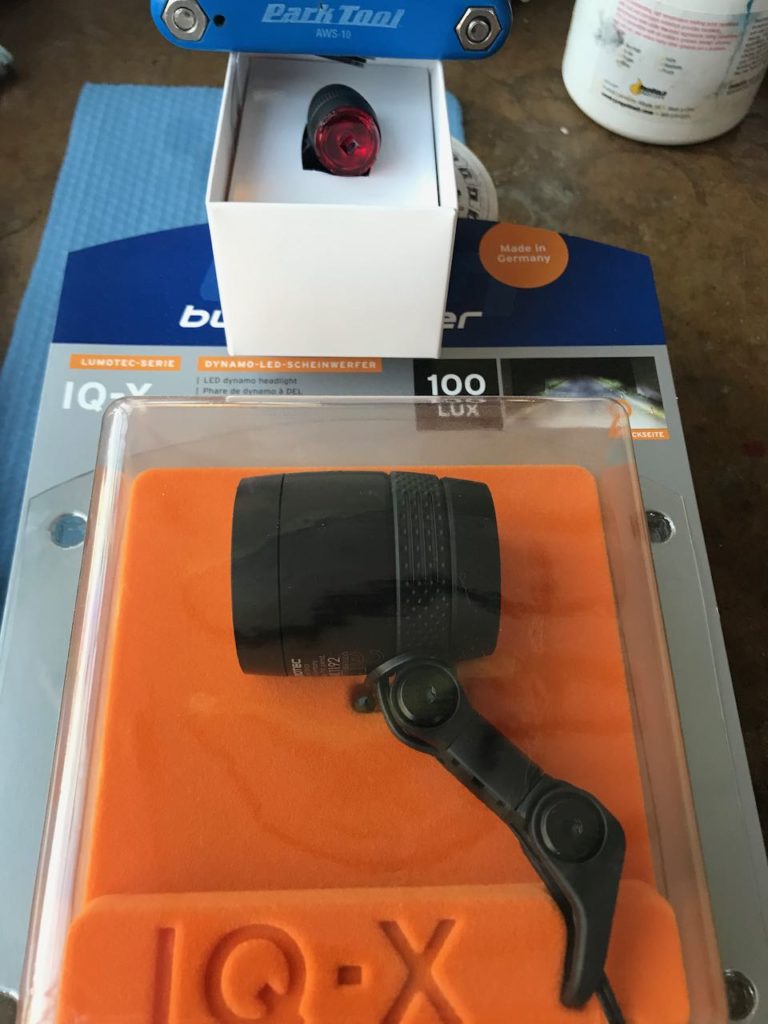 Part of the fun of this project involved gaining familiarity with dynamo lighting systems. We (Pedal) have been involved in a few dynamo systems, and I've purchased a lot of the parts, but I haven't been in charge of installation until now. The theory of wiring this together stressed me out a little bit, but in practice it all went together nicely. I wasn't totally excited about little wires all over my bike, but that's part of the package.
Then it was done. I took it home and waited until dusk, then rode up and down the street in front of my house, trying to get the (very powerful and interesting) headlight aimed correctly.
A few days later I got home from work and discovered my refrigerator bereft of refreshments. I hopped on the new bike, rode to the store and admired the fetching look of my bike.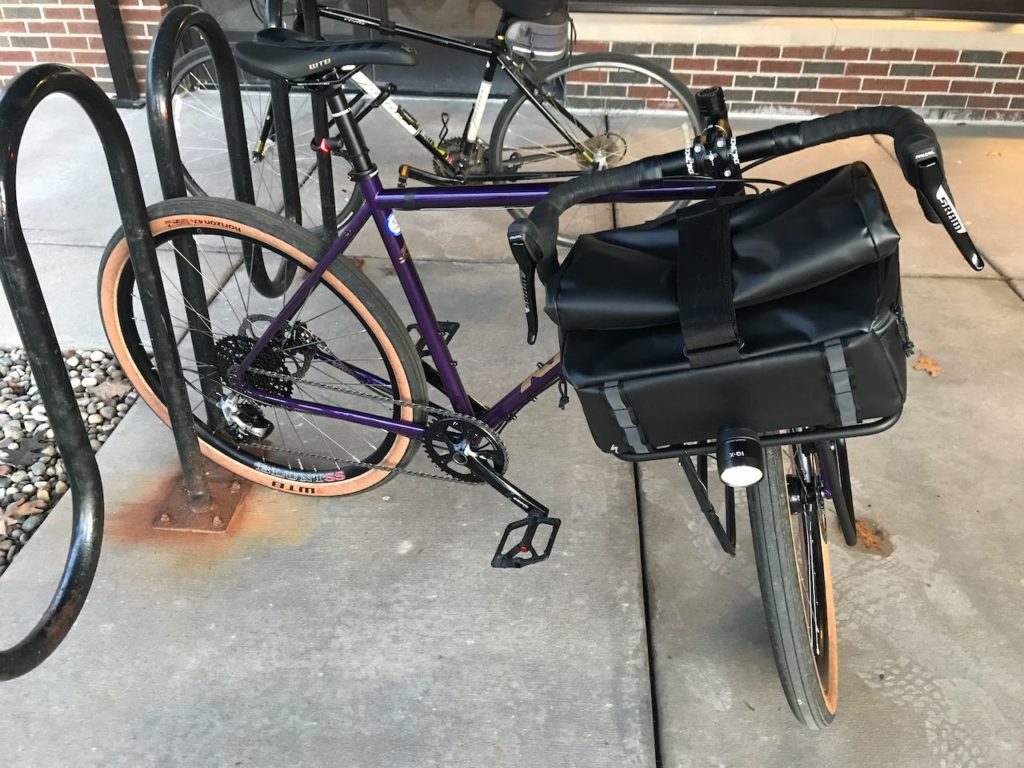 I went in the store, purchased my supplies and (gasp) placed them in the bike's bag.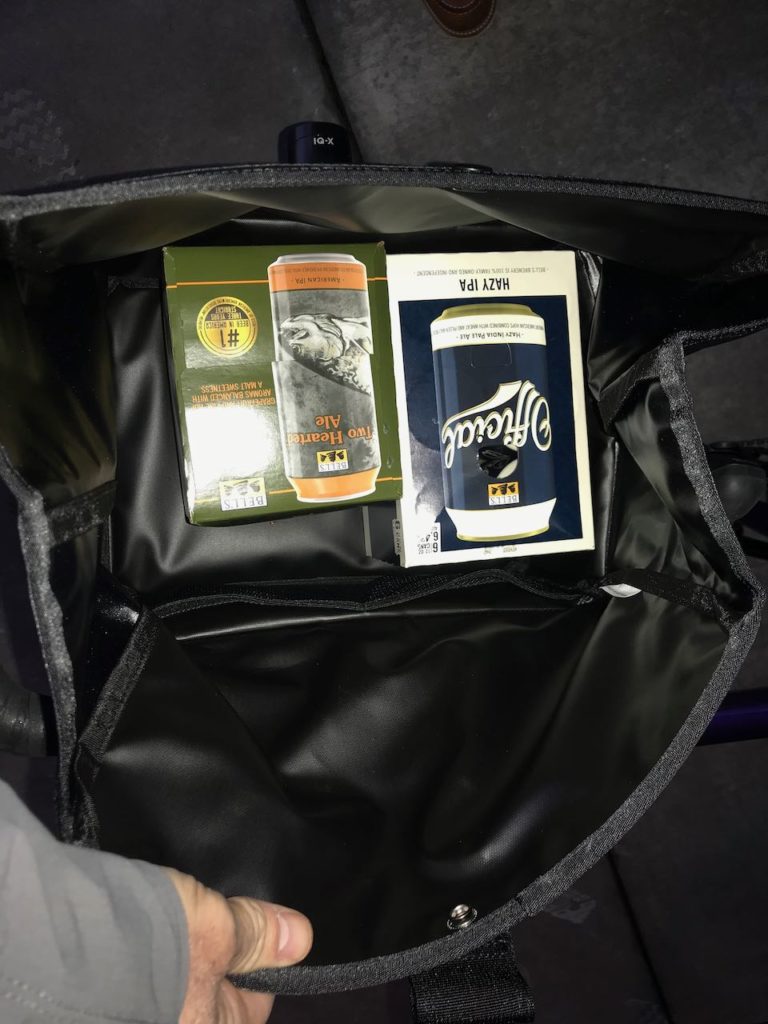 Success! As was the ride home, via the long route.
All is not perfect. Though the pizza rack seems like a winner, I can't shove my backpack in the pizza bag. My laptop doesn't really fit in the pizza bag, either. I've gotta figure this storage thing a little bit better. Maybe a net to just strap my backpack to the rack. Maybe front panniers. This is an intriguing… opportunity.
I've ridden home at night a couple of times, and the lights are great! No anxiety concerning battery charge, and lots and lots of nice, bright light. My initial worry over the tiny taillight has waned. It lights up nice and bright, and stays lit long after the dynamo stops producing power, very useful for long stoplights at night.
The bike itself is wonderful. The ride is oh so smooth. The wide tires provide lots of confidence. It handles great. I'm getting used to the flat pedals. I'm also getting comfortable with a 30 lb. street bike, conceptually and functionally.
The whole project has been fun, but not cheap. Truthfully (and typically), most of the expense was self-inflicted. I wasn't required to build a new rear wheel. I could have built a dynamo front wheel from the stock rim. I could have used a less-expensive dynamo hub. I certainly wasn't obliged to use really expensive spokes. The lights themselves cost perhaps a little bit more than their USB-charged equivalents, but.. dang. They're nice.