Editor's Note: Pedal purchases a demo bike for year-round employees. In exchange, the employee must make the bike available for clients to demo and write a brief summary of their experience with the bike. This entry represents Lauren paying her dues.
Oh so legit. Oh so gorgeous. Oh so fun.
Before riding gravel, I thought "What's the big deal?" I like riding hard and fast, and my road bike gets the job done. I borrowed a friend's gravel bike and rode the Barry Roubaix course. I was hooked.
The Quincy is an amazing adventure bike, taking me on and off road over the past year. It is responsive and snappy, yet comfortable for long miles in the saddle. I love the 1x Rival drive train. Super responsive and all the range I need. The Quincy definitely shined when I took it to the Barry Roubaix, Melting Mann and Dirty Donut Courses.
The wheels and tires that came stock are pretty beefy for around here. The stock tires, 700×40 Maxxis Ravagers, did come in handy when I tried out racing an XC course. But, in other cases, more than I needed. I did swap out to 700×37 WTB Riddlers. Much less beefy, much more speed. Plenty for a dry/sandy day on the Barry Roubaix course. A wheel upgrade would really make this bike sick.
Another first for me was trying out flare bars.  I've got to say I'm a fan.  I don't think I would like them on my 'race-y' road bike (just not necessary for me), but on the on loose terrain, I appreciated the stability and control the flare bars gave me on the Quincy.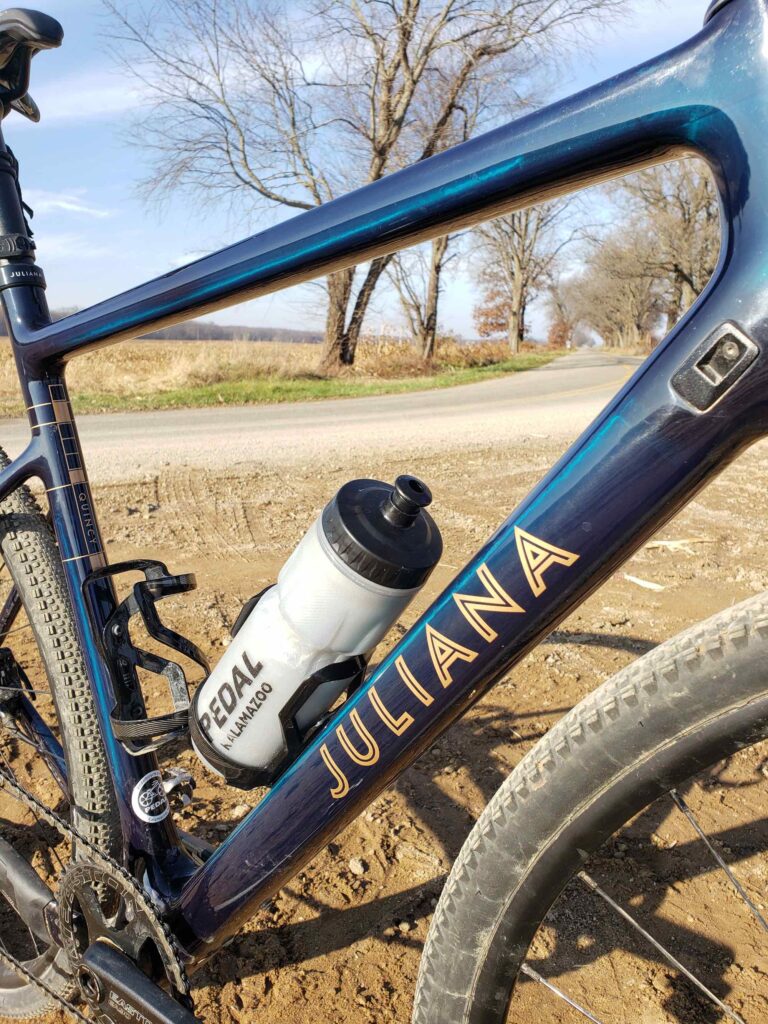 So.. can we just talk about the paint job on this thing?! Absolutely gorgeous. Look down and it looks like you are riding over the ocean. The most beautiful frame I have been on. Sorry to the tall dudes and ladies. The Quincy is only available in 50, 52 and 54cm. I wasn't looking for a women's specific set-up but, compared its counterpart, the Stigmata, I think the Quincy ruled the color scheme this year. What can I say.. I care about a level of Bad-assery. The Quincy has it.
This bike can really do so much. I rode primarily gravel, but you can have it built with 700c or 650b each having a tire clearance of 45mm and 2.1. So you can have a great set-up for gravel-grinding or have a fast, drop-bar MTB You can even run a dropper on in. Pretty cool. Two thumbs up from me! Lots of possibility with this bike.