Editor's Note: the blog might say that Tim authored this post, but Kalyn is the real author.
A few days ago, someone asked me why I chose cycling over any other sport. To me, the answer seemed obvious: through cycling, I am able to connect with the world around me by exploring new places, adventuring with friends, and getting lost in the beauty of Michigan. So when it comes to choosing a bike, I know what my priorities are. I want to be able to go farther, faster, so I can spend more time outside doing what I love.
Given this, the Specialized Women's Tarmac Disc Comp was a no-brainer. It is built for snatching QOMs as much as it is for long afternoons of getting lost in the countryside, and it does both in style. The sleek, internally routed FACT 9r carbon frame makes the Tarmac look as fast as it feels. And while color isn't everything, the deep plum to burgundy fade lights up in the summer sun. However, this bike is more than just looks as the Shimano Ultegra 11-speed drivetrain shifts like a dream with the range to get me up even the steepest of hills.
When it comes to specifications, it is the Shimano Ultegra R8070 hydraulic disc brakes that really stole my heart. Before the Tarmac, I thought that disc brakes were only for riding offroad, but after experiencing the confidence that disc brakes give me on pavement, it's hard for me to imagine ever riding a bike without them. This bike really likes to get going fast, so cornering with confidence and scrubbing speed on the descents has completely changed my riding style for the better.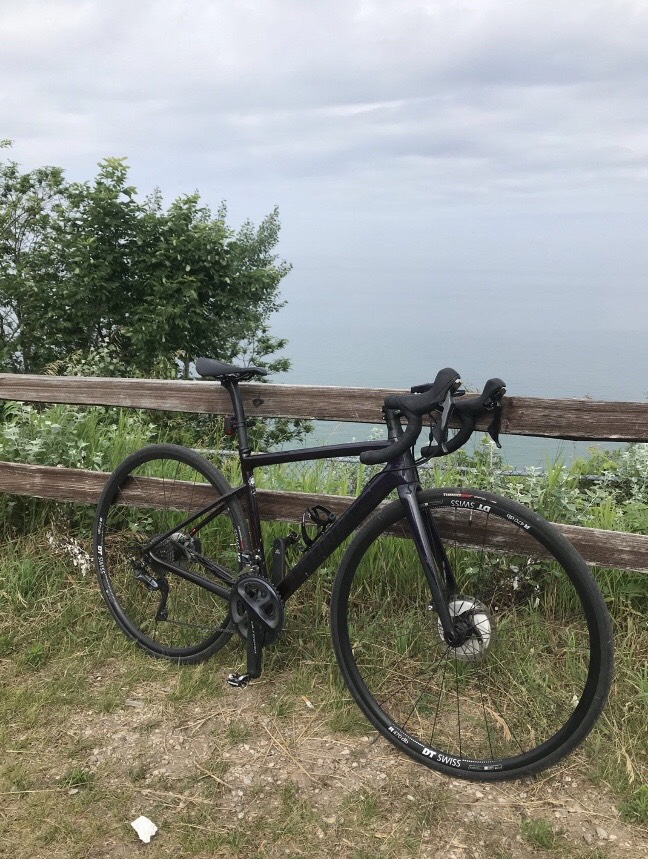 This summer, I've been able to ride farther and faster because of the Tarmac. As someone who has spent long miles on uncomfortable road bikes, this bike sets itself apart. While the carbon frame and fork make this a light build for a disc road bike, it serves the more important function of compliance. With the addition of 26mm tires on tubeless compatible wheels, the Tarmac sucks up whatever the road throws at you, making the miles melt away.
The Tarmac manages to be both comfortable and fast at the same time, making it the perfect bike for keeping up on fast rides as well as adventuring on your own. I've had the opportunity to explore new places with people of all speeds thanks to this bike, and I couldn't imagine spending a summer riding in Michigan on anything else.