No aspect of a modern mountain bike induces confusion and head-scratching like a fork, particularly an air fork, with its bewildering array of valves and knobs. Most people, and I totally get this, want to *ride* their mountain bike. They didn't buy it so they'd have something to demystify and tune.
About this time last year that Quarq introduced the ShockWiz, a small device that attaches to air-sprung suspension units and provides suspension-tuning suggestions. I immediately ordered one for each shop, and *boy* was I bummed out when I discovered that it was incompatible with the Manitou Magnum on my bike at the time.
2018 brings a new mountain bike, a new front suspension unit and another shot at the ShockWiz. The bike is a Kona Honzo CR Trail DL and the fork is a RockShox Pike. Yesterday looked like a good day for a trip up to Yankee, so I popped into the downtown shop and installed ShockWiz.
Installation consists of three parts: installing the physical ShockWiz to your suspension device (front or rear) in a way that doesn't induce contact with the frame, installing the ShockWiz app on the Bluetooth LTE device of your choosing and running through a quick setup procedure, guided by the app.
In this case I attached the device to the crown of the fork with zip ties and made double-darn sure that I could spin the fork without the knocking ShockWiz against the frame. Broken ShockWiz and/or broken frame make for a bad day.
Once I pair ShockWis to my phone, the ShockWiz app gave me a lot of direction. I emptied the fork's air chamber and cycled the fork several times. I then filled it up with air and cycled it again. After this, ShockWiz encouraged me to go for a ride.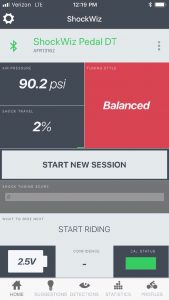 ShockWiz gathers quit a bit of data as you ride, and after a time it tells you what you need to do so that it can complete its array of measurements. In my case, I was instructed to hit some jumps and drops, so I might have aimed for more roots and rocks than usual. At the end of 13 miles of Yankee, ShockWiz said that it felt pretty good about its analysis.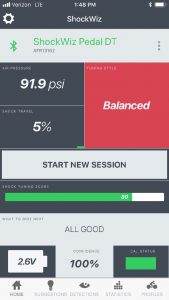 And it offered these suggestions: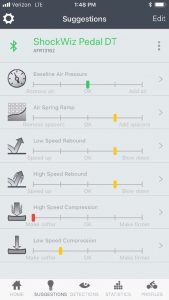 Which boil down to adding a volume spacer, decreasing my compression damping and adding a couple of clicks of rebound.
True confession at this point. Ken and Matt, our service department managers at the South and Downtown stores, respectively, went to a suspension-tuning class this Winter and brought back a lot of knowledge, knowledge which I lapped up and applied to my bikes. I'd ridden the Honzo once or twice prior to the ShockWiz experiment, and felt like the suspension was pretty darn good.
How do I feel about ShockWiz's suggestions? Intrigued. I have not messed around with volume spacers on my own bikes, so that presents an opportunity. Rebound damping is possibly the most confusing of all suspension adjustments, so I'm not shocked (pun intended) that a change is suggested. I am super pleased that the recommended change is small, giving me confidence in the setup I'd already done. The suggested change to compression damping is the most interesting, as I rode with bike with the minimum amount of compression available. Is this a byproduct of riding a trail fork in an XC environment? Would a fancier damper in the fork help?
Stay tuned (oh, the puns are flying today!) for more about this. I have another bike in the garage with a Fox 34 and plan to see what ShockWiz has to say about that piece of hardware in a  couple of days.
What does all this have to do with you? We rent ShockWiz. $50 gets you installation, setup and a weekend of suspension analysis. Yep. We have one at each location.
Last thing: I love nerd stuff like this, but nothing beats mountain biking on a lovely Spring day.
A few days later…
I put ShockWiz on the Fox 34 yesterday and rode Andrews. What fun! Here's the feedback I received.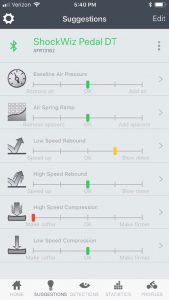 What's it mean? It looks like I had this one tuned a little better right out of the gate, but only by a little. High speed compression damping remains a subject in which I have great curiosity. More info as it becomes available.